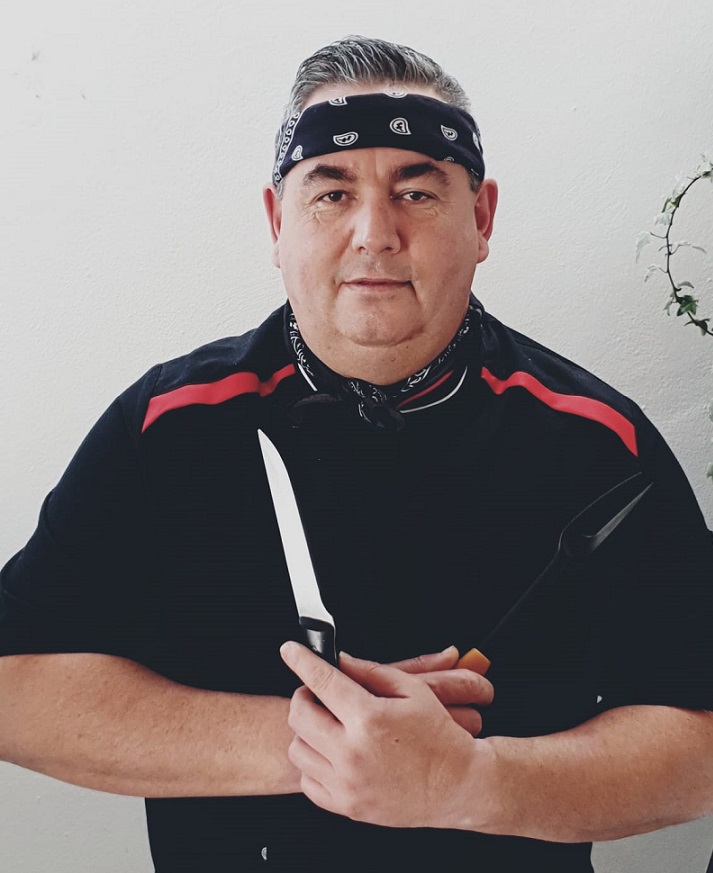 Albert Dovale – Head Chef Fairways Restaurant 
Albert's path to the amazing food you enjoy today began in his childhood at 14. Albert's father was head chef at Le Camenbert a French restaurant in Hampton court which was visited often by the Queen Mum under closed doors when the Hampton Court flower show was on. Albert was dragged in on weekends to help is father and was stuck washing up! As he puts it, dodging hot pots and pans thrown by alcohol fueled french chefs, it was like a war zone!
At 16 now, Albert went on to attend the Richmand Upon Thames Culinary School achieving his 706/1 and 706/2 certificates. With certificates in hand he went back to his first experience in restaurants and the crazy crew as a fully qualified Commis Chef staying there or 2 further years. From there it was off to Mercedes Benz Headquarters as a Chef De Partie cooking for the directors and the racing teams on race day. 2 years was enough and Albert wanted to spread his wings working on the QE2 on 6 month contracts sailing the high seas!
Through the next years up until 1995 Albert would work at various restaurants gaining experience. He was offered the job of Sous Chef at 1 Artiste Assoife in Kensington Park under top chef Didier Milinaire who was a true old school chef! During the next 5 years they earned the best new restaurant 3 years running. From there it was of to another style, contract catering sometimes as many as 1500 guest over 5 different themed restaurants.
It's 2002 and Albert made the same plunge as many and off to Spain he went starting off at Motown's in La Zenia as Head Chef. As the restaurant was new he also designed the complete kitchen and stayed there until 2005 moving on to the Armispa Hotel for 3 years until 2008 joining Fairways in the Villamartin Plaza. In 2011 he took a short break going to Puccini's in Punta Prima. In 2013 it was back to Fairways where he calls home. Most of you know Albert from your dining experience in Fairways, always helpful, smiling and preparing some of the best cuisine in Spain. It's easy to understand why Albert has the accolades most chefs can only dream of!