Aid The Costa's 2020
Aid The Costa's 2020
Welcome to our big charity raffle "Aid The Costa's" May 2020!
On 17th May 2020 we are hosting an awesome charity day full of live music and entertainment for what will be the biggest charity day on the Costa Blanca and want you to buy your chance at 1000 Euros here!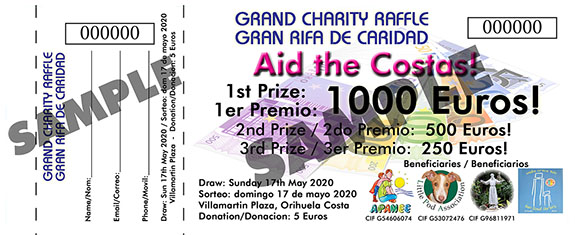 On this day, we are raising money for four great local causes: the Apanee centre for disabled children in Torrevieja, the Franciscan Men's Shelter in Gandia, the Little Pod Association for animals and the San José Obrero Orphanage.
Come on down and enjoy the fun – but if you can't make it, you can help us raise money by donating to our big charity raffle and get a chance to win 1000 Euros!
We are hosting two identical raffles with prizes of 1000, 500 and 250 Euros to be won in each! Tickets are 5 Euros each – so why not buy tickets for each raffle below?!
Double your chances – buy both colours!